Canoeing
We can recommend the nearest Canoe rental company just down the hill in Siorac. They have a variety of trips available and will either bring you upstream to canoe back to Siorac , or you can get on board and drift downriver to Limeuil. They will pick you up at a variety of spots along the river depending how long you wish to go out.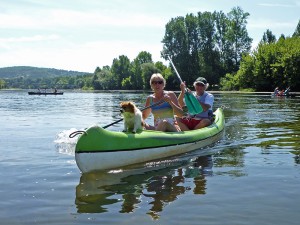 Bring sun-cream, and plenty to drink.
Canoe Raid
Campeyral
24170 Siorac-en-Perigord
Tel: 05 53 31 64 11
Mobile: 06 07 15 57 43
Or make reservations by internet: acanoeraid@orange.fr
---
Walk or cycle along the Dordogne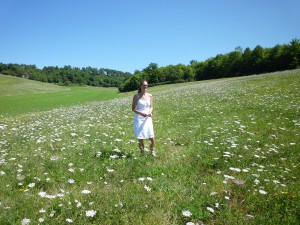 Select one of at least 4 different walks through forests and fields directly accessible from the house.
Castles, castles and more castles! … often open for a lovely lunch to be used as mid-route stop. We are happy to assist you in planning of such a trip.
For  Cycling fanatics there are a lot of different tours that can be made. Trips of 60 – 70 Km per day are easily achievable, but one needs to be fit as its hilly country. The abundance of villages and small towns along these routes are an open invitation to visit the numerous museums and local product makers of the area.
You can rent one of the tour bikes to make road trips or rent our mountain bikes and have fun in the neighbourhood by following the local bridal paths and other  off-road tracks.
---
Horse riding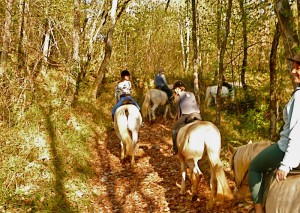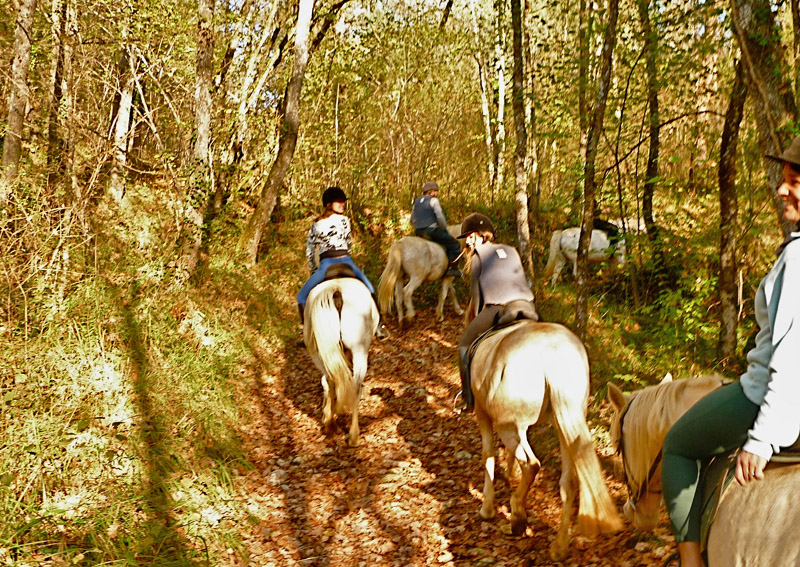 Horse riding is possible from the Poney Club at 5 minutes from les Constancies. This area has a selection of dedicated bridal paths that are fully segregated from the roads, and they lead through the nicest spots.
Poney Club Arc en Ciel
Le Peyrat
24260 Campagne
Tel: 05 53 07 23 66
---
Golf
There are two golf courses close by in Siorac (7 km) and another beautiful one called Golf de la Marterie in St. Felix-Reillac on the road between Le Bugue and Perigeux  about 30 minutes drive from Constancies .
Golf de la Forge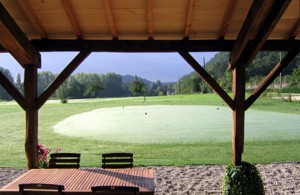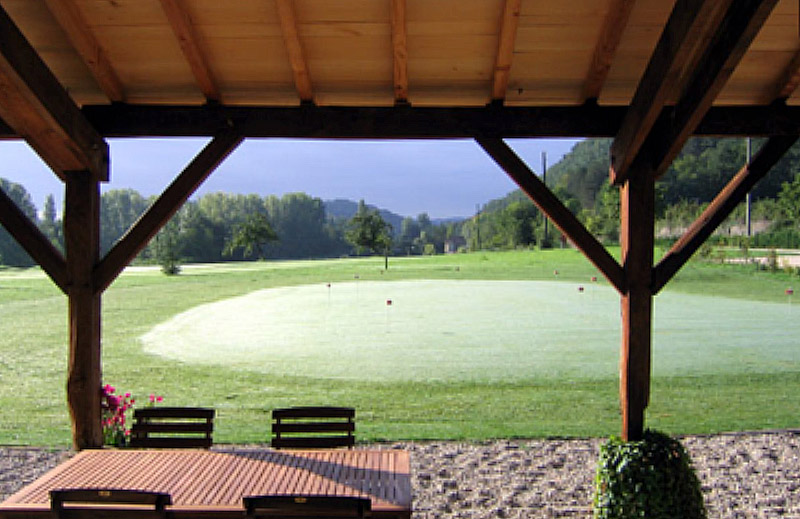 Route de Belves, 24170 Siorac
Tel: +33 5 53 31 99 76,
email: asgolfeurs24@aol.com
Golf Le Lolivarie
Pessat, 24170 Saint-Germain-de-Belvès,
Tel: +33 5 53 30 22 69
Golf De La Marterie
24260 Saint-Felix-de-Reillac-et-Mortemart,
Tel: +33 5 53 05 61 00
Other Golf courses:
Golf de Périgueux – 18 holes (60 km)
Golf Club de Brive – 18 holes ( 78 km)
Domaine de Rochebois – 9 holes ( 36 km)
Château des Vigiers – 18 holes ( 35 km)
Château Les Merles – 9 holes (40 km)
Golf Coiroux – 18 holes (Aubazine ; 100 km)
---
What to do in the evenings?
Eat:
Of course we have a beautiful and well equipped kitchen, where you can test you skills and prepare your favourite dish for your family. Or are you already daring to try some local game with a rich sauce of cepes freshly picked from the forest ?
If you visit with a group and are out most of the day it may be nice to come home a not have to bother with shopping and cooking. We can also make a special arrangement for you and prepare a full serviced dinner to your liking . This will of-course require pre-booking and can be subject to personnel availability.
But if you prefer to eat out there is an abundance of restaurants in the immediate neighbourhood. During the high season it is wise to  book in advance. Some restaurants we can highly recommend and are closest by:
Les Quatre Feuilles – T +33553316026 – Siorac at 7 km
Auberge Medievale – T +33553072402 – Audrix at 4 km
Les Couleurs – T +33553544873 – Campagne at 6 km

Drink:
Of course it is a must to try the local wines!
Visit one of the many caves in the surrounding villages and have a wine tasting experience.
There is a nice wine shop in the village of Coux and the owner will advise you in proper Irish of the best choices.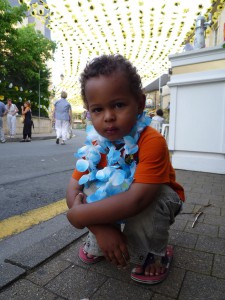 If you wish all drinks to be pre-ordered, please let us know in advance. And if you have  a large group of people we can make available a bar tender with your choice of beer.
Go out:
Of course this is not the Quartier Latin of Paris , but there are some pubs and disco's around. And taxi services available for the real die-hards to get home. Go to the larger towns like Sarlat or Perigeux for a wider choice.
There are many festivals in the area and even some evening markets here and there. Best is to visit the tourist office in St Cyprien or le Bugue to find out what's happening.
---
 Markets
There are markets in the following villages:
Sunday: St Cyprien (6 km)/ St. Geniès (35 km)/ Issigeac (47 km)
Monday: Les Eysies (13 km)
Tuesday: Le Bugue (9 km) /Salignac-Eyvigues (47 km) / Bergerac (53 km)
Wednesday: Siorac (7 km)/Perigeux (50 km)/ Sarlat (25 Km)/ Montignac (36 Km)
Thursday: Lalinde (30km ) / Domme (30 km)/ Monpazier (30 km )
Friday: Le Buisson (8 km) / Les Eyzies avondmarkt / Brantôme
Saturday: Sarlat (30 km)/ Perigeux/ Montignac /Belves (13km)/ Villefranche-du-Périgord (35 km)/ Bergerac
---
Swim
Apart from our 6m x 10m heated infinity pool  which offers a lot of fun and a refreshing dip, the Dordogne river is a good spot to swim.
There are various safe beaches available along the river banks and if you like to try swimming upstream try the beach at the Canoe rental in Siorac. It's a pleasant spot to recreate.
We have been swimming in the river during one year on 1 November!… it was 29oC during the day!
This was a rare occasion as the temperature normally goes down in this season, but it can be nice and sunny and an afternoon dip can be refreshing.
There is a Water fun-Park at about 10 minutes walk down the hill form the house called "l'Etang du Bos". There is an entrance fee of € 8. If you prefer to drive,  just go out the gate and keep turning left 5 times. You'll see the signposts on the road.
---
Relax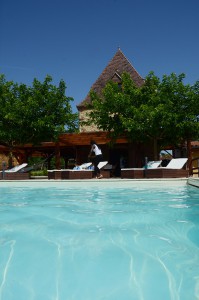 The house is fitted with a multitude of TV sets as well as cable tv, and there is a selection of DVD's that can be enjoyed.
Internet and wifi is available.
If the weather is good, lounge outside, there are various deck chairs and comfortable seats available.
In late summer/autumn lounge around the open fire and roast chestnuts
You can also try a game of table tennis or football in the barn (please ask for the key).
We have a wide selection of games and cards available.